Social entrepreneurship is a powerful force for change, driven by individuals who are committed to making a positive impact on society. One such inspiring journey is that of Simona, the founder of Ambrosia.
In the heart of Negotino, North Macedonia, a remarkable initiative is taking shape. Ambrosia, born from the shared vision of five determined young women, aims to do more than just create delectable sweets; it aspires to transform lives and empower marginalized communities.
Ambrosia specializes in crafting delectable confections that include cakesicles, cake pops, and breakable hearts. Each delectable treat is meticulously handcrafted using high-quality chocolate, with the cakesicles and cake pops encasing a sumptuous chocolate cake at their core. In essence, Ambrosia is more than a confectionery enterprise; it is a beacon of hope and empowerment. Through their delectable creations, they are sowing the seeds of positive change.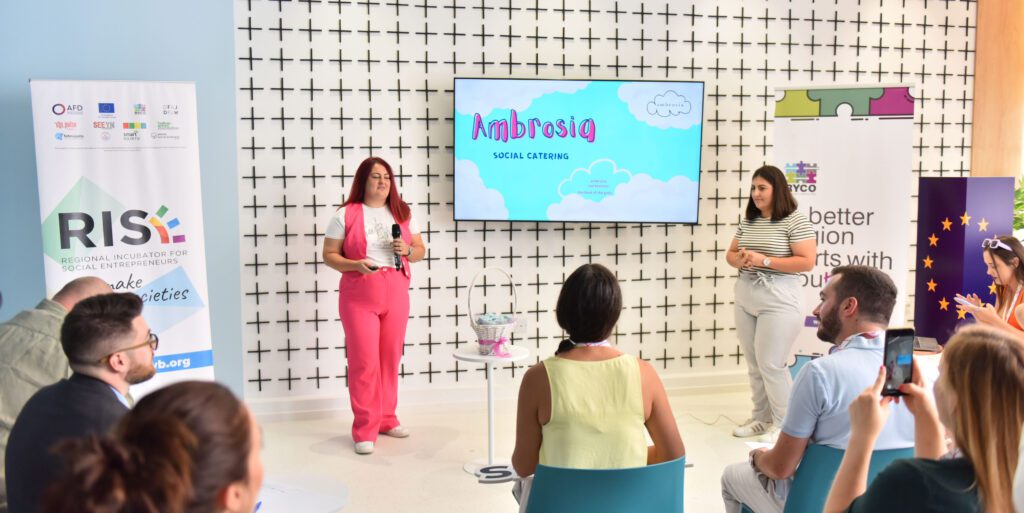 A Journey Shaped by Values
Simona's journey into becoming a social entrepreneur is deeply rooted in three defining aspects of their life: their parents' life philosophy, their vocation and education, and their personal life experiences. Raised by two entrepreneurs who not only provided for the family but also helped others through providing employment opportunities, Simona learned the value of offering opportunities rather than handouts.
Her educational pursuit in political science led her to discover the concept of social entrepreneurship, which resonated deeply with her own experiences. Tragically losing both parents at a young age, Simona took on the responsibility of caring for their two younger sisters and managing the family company. This firsthand experience of the family business operating as a "social enterprise" further fueled her passion for resolving social issues through entrepreneurship.
Ambrosia's mission is clear: to be an eco-sustainable catering business that not only uses local, high-quality ingredients to create delicious meals but also provides employment opportunities to Roma ethnicity women and adolescents without parents. Their ultimate goal is to empower these marginalized individuals to achieve economic stability.
Latest Developments at Ambrosia
In its initial years, Ambrosia focused on profitability and reinvested the earnings into establishing its own workshop. Their success was marked by the sale of sweets, cake-pops, and popsicles. As they enter the next stage of development, they are set to train three young Roma ethnicity women, working collaboratively with them to develop catering menus.
Ambrosia has an ambitious ten-year plan. In the coming year, they aim to expand their services to include full catering services, with hopes of acquiring the necessary equipment and a vehicle within three years. Over the next five years, they plan to evolve into a full-fledged event planning business. Ultimately, their ten-year vision includes opening a small production line for croquettes and other finger foods.
The Role of Young People as Agents of Change
Simona emphasizes the pivotal role of young people as agents of change. They firmly believe that the future of progress lies in the hands of the youth. Encouraging young people to be proactive in addressing societal issues is crucial for creating lasting change.
For those considering embarking on the journey of social entrepreneurship, Simona offers valuable advice. They stress the importance of perseverance, understanding, and sacrifice. Social entrepreneurship demands complete dedication, and the key to success lies in genuinely committing to the cause. Simona reminds us that "we rise by lifting others," underlining the significance of empowering others to bring about positive change.