Efficient solutions for blood donations: How Droplet is improving the process
Droplet operates on a simple yet powerful premise: it allows users to register free of charge and join a comprehensive database of voluntary blood donors. However, the impact of Droplet extends far beyond just providing a database. The application offers several features that optimize the process of finding and connecting with donors.
Within Droplet, users can access a compatibility table, making it simple to identify donors whose blood type aligns with their specific requirements. This ensures safer and more effective transfusions. Additionally, the application provides crucial information about the nearest transfusiology centers, ensuring swift access to the required facilities for blood transfusions. The application enables users to monitor the availability and status of blood doses at transfusiology centers in real-time. This guarantees that critical supplies are readily accessible when urgently needed.
Droplet's Impact on Blood Donation and Efficiency
The objectives of Droplet are far-reaching and have the potential to transform the healthcare landscape.
Droplet aims to inspire a substantial number of individuals aged 18 to 64 within the Brčko region to become voluntary blood donors. This will not only bolster the overall donor pool but also help ensure a healthier supply of blood for those in need. By reducing the time required for registration, Droplet enables willing donors to sign up quickly and efficiently. This helps overcome one of the major barriers to blood donation – the cumbersome registration process. Moreover, Droplet seeks to collaborate with ministries of health to integrate the application into the broader healthcare system. This will enhance coordination, improve efficiency, and ensure the sustained impact of Droplet.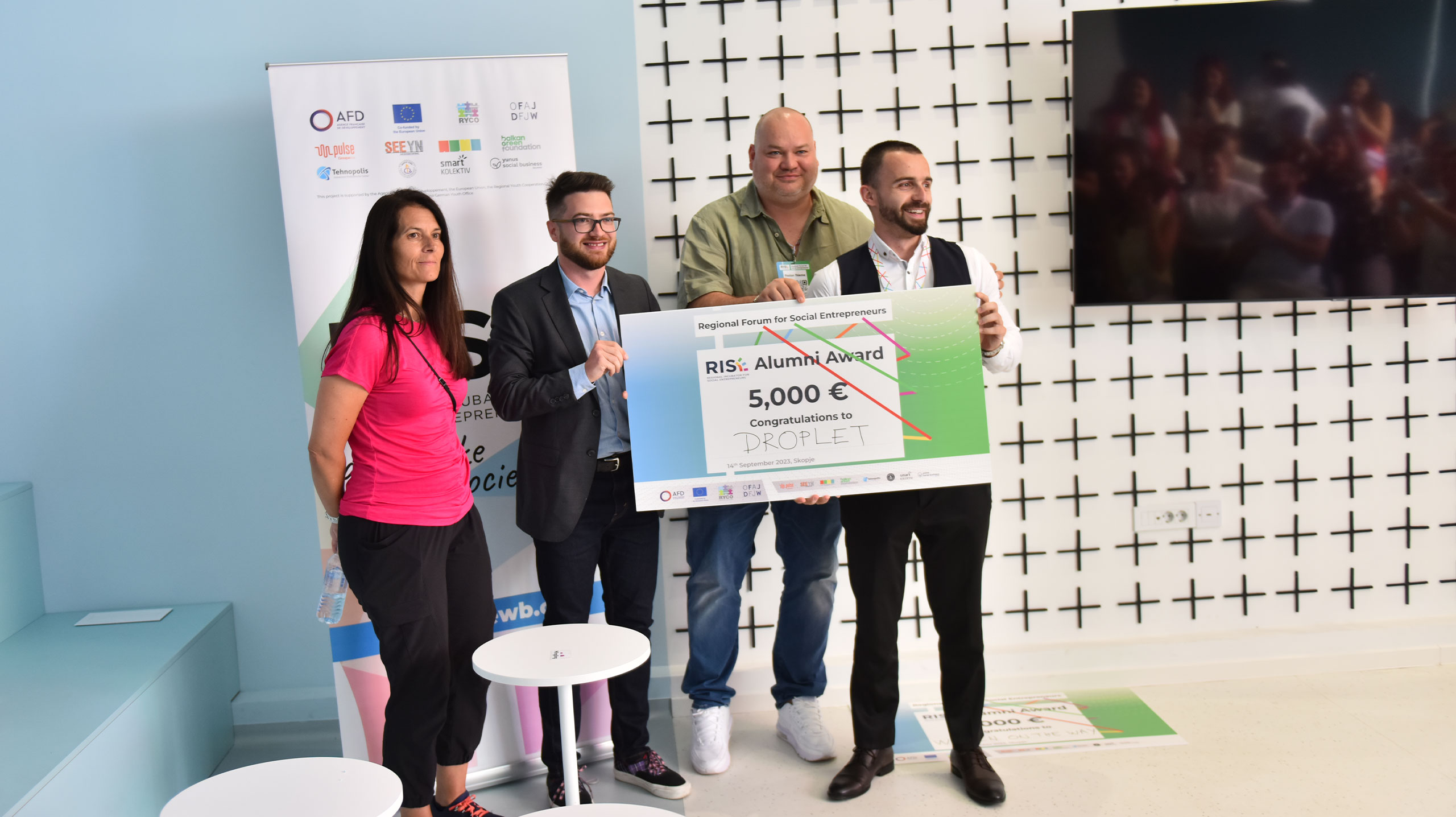 Rise Alumni Award: A Catalyst for Further Development
Harun's journey with Droplet received a significant boost when he became a participant in the RISE Journey. This support program for social entrepreneurs provided Harun with invaluable opportunities to network with like-minded individuals, refine his business model, and receive guidance from experienced professionals.
During the Regional Forum for social entrepreneurs held in Skopje from 12 to 14 September, the competition RISE Alumni Award allowed six social entrepreneurs, including Harun, to present their social business to a jury and potential partners. This prestigious competition aims to stimulate economic growth among social enterprises and help them create jobs, contribute to the local economy, and strengthen their impact in their communities.
Harun's compelling presentation and the impactful nature of Droplet secured him the first-place prize in the RISE Alumni Award competition. This recognition came with a financial support of €5,000, which will further assist Droplet in its continued development and expansion throughout Bosnia and Herzegovina.
Building yourself as an entrepreneur is your dream, but building yourself as a social entrepreneur is your duty. Every step that we make towards our development of our business is one step more to a better society. Our society is our responsibility, I am happy that we get additional support for our social business thanks to our team, mentors and RISE program.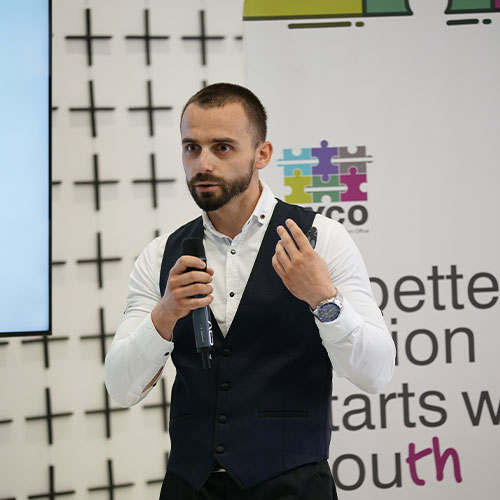 About the RISE project
Launched on 1 October 2019, RISE (Regional Incubator for Social Entrepreneurs), with its ten partners, supports young people's ventures in the Western Balkans that aims to have a positive social or environmental impact on their communities. The implementation of the project takes into account the specific needs of the region as well as its historical and political context. Thus, this project aims to foster reconciliation in the Western Balkans through the promotion and strengthening of social entrepreneurship.
This project is co-funded by the Agence Française de Développement, the European Union, Regional Youth Cooperation Office and the Franco-German Youth Office (OFAJ). RISE project is developed in partnership with the Regional Youth Cooperation Office (RYCO),Groupe SOS Pulse, South East European Youth Network (SEEYN), the Franco-German Youth Office (OFAJ), ARNO, Balkan Green Foundation, Nešto Više, Smart Kolektiv, IEC Tehnopolis and Yunus Social Business Balkans.